Enclosed Orbital Weld Heads ORBIWELD 115, 170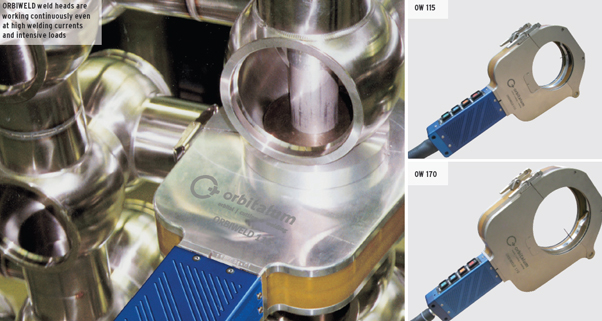 The ORBIWEL D series is characterized by very high thermal resistance. It is therefore particularly suitable for applications in the chemical, pharmaceutical, food and beverage industry, where ever greater demands are made on the closed weld heads by ever greater tube diameters and wall thicknesses.

Coolant channels running through the entire weld head body ensure an excellent heat dissipation that enable the ORBIWELD weld heads to work continuously even at high welding currents and intensive loady.

The closed design of the ORBIWELD series and the gas management system of the head ensure a permanent infiltration of the weld seam during welding with inert gas, guaranteeing seams that are very low in welding colors.
FEATURES :
• Quick change system for clamping inserts that engages and relelases smoothly without any tools.
• High durability due to completely water-cooled weld head housing
• Durable clamping connections in combination with clamping inserts available for all tube dimensions guarantee that the parts to be welded are clamped securely without misalignment.
• All the important commands for welding can be transmitted to the power supply via a control panel built into the robust and durable aluminum handle, so that no additional remote control is required
• High-quality, rugged housing and handle parts.
• Highly flexible hose package (Length: 7.5 m/ 24.6 ft) with strain relief to the power supply.
• Cost-effective clamping inserts.
• Comprehensive and customer-specific range of accessories.
Orbital Tig Welding Machine, Orbital Tig Welding Process, Supplier, Exporter, Exporter and Supplier in Mumbai, India