The PA-S series is based on conventional step-switched power sources which are ideally suited for automated cutting tasks with machine torches in combination with 2D guiding systems and 3D robots, but also for manual use with hand torches.
We offer straight standard torches and special torches with short shafts as well as torches with a 60° or 90° angled torch head.

Further advantages are :
• Good quality of both cut surfaces
• High lifetime of consumables due to direct liquid cooling
It is possible to perform contour and straight cuts as well as bevel cuts up to 60° and interrupted cuts in all 2D and 3D positions.
A wide range of accessories is available for the hand torches which make it easy to perform many diverse cutting tasks.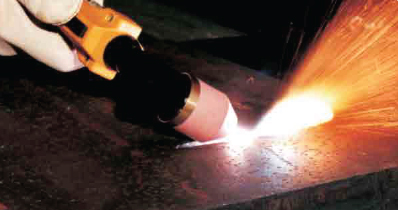 Plasma Gouging
Both the machine and hand torches can be quickly converted for plasma gouging. Plasma gouging is ideal for eliminating welding defects, cracks, cavities and inclusions for preparing for backwelding.