The automatic torch changing unit ATChanger allows the automated change of plasma torch heads. Based on the quick-change system used for Kjellberg plasma torches.
ATChanger offers the following advantages :
• Almost fully automated controll of the cutting system
• Increase of productivity due to reduced downtimes
• Equipping of system with up to eight torchheads with consumables for constant or different cutting tasks
• Quick change between highest cutting output and finest marking possible

The ATChanger can be installed in 2D and 3D guiding systems. It can be used for HiFocus 280i neo, HiFocus 360i neo and HiFocus 440i neo – also as retrofit.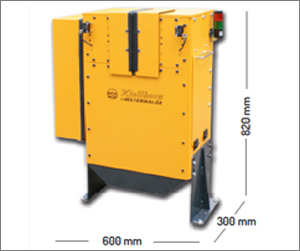 Datasheet ATChanger
• Automatic change of eight plasma torch heads
• Usable with 2D and 3D guiding systems
• Integrated control for short changeover time and increased productivity
• Nearly without manual intervention