HDSF Datasheet
DESCRIPTION :
E.H. Wachs Heavy Duty Split Frame (HDSF) series are the largest and toughest in the Wachs Split Frame family, and are designed to part, bevel, single point, counterbore and face flanges on large diameter pipes from 12 to 84 inches O.D. (DN300-2100)*.
Named for its ability to split for mounting to the O.D. of inline pipe, the HDSF series is constructed with a bigger cross section, larger gear sets and massive hardened steel components.

BUILT FOR BIG JOBS :
The HDSF is ideal for big, tough jobs where tight radial or axial clearances are less critical. Like all Wachs Split Frames, the HDSF will produce precision lathe finishes using a safe cold cutting process, which minimizes the risk of explosion on gas and petrochemical lines and eliminates a heat affected zone. Wachs Heavy Duty Split Frames come standard with Heavy Duty O.D. tracking slides to compensate for out of round pipe, and to speed setup and machining times. A heavy duty machining system built for big jobs, Wachs HDSF offers a big return on investment.

SPECIFICATIONS :
• System Function : Split Frame machine tool designed to part, bevel and counterbore large diameter pipe
• System Capacity : Machines large diameter pipe from 12" to 84" O.D. (DN300-2100), varies by model number
• Drive Options : Hydraulic and Pneumatic
Cutting Tool Speed :
Hydraulic Approximate cutting time with hydraulic motor 60-120 and single trip on 60" O.D. (DN1500) pipe with 1" (25.4mm)
wall: 54 minutes cutting and beveling
Pneumatic 56 Surface Feet/min (17.07 surface meters/min) Surface speed rating w/ air motor @ max power on 84" (2134mm) O.D. pipe


Power Requirements :
Hydraulic 10 GPM @ 1500 PSI (38 LPM @ 103 BAR)
Pneumatic 95 CFM @ 90 PSI (2.7 Cubic Meters per Minute @ 6.2 Bar)

Feed Method : Positive mechanical starwheel
Feed Rate : Fixed trip rate .0026" (.0661mm) per trip
Construction : Select hardened alloy steel components, large 6" (152.4mm) cross section, high capacity bearings, heavy duty pinion housing, corrosion resistant finish and ratcheting hinge mechanism.

STANDARD EQUIPMENT :
• Hydraulic or Pneumatic Drive Motor
• Heavy Duty O.D. Tracking Tool Slides, (1) Parting and (1) Parting and Beveling
• Auto Resetting Single Trip Assembly
• Lifting Hooks for Vertical or Horizontal Mounting
• Ratcheting Hinge Mechanism for Scissoring Open and Closed
• Self Squaring Mounting System with Adjustable Clamping Legs
• Sealed Chip Resistant Pinion Housing
• Heavy Duty Storage Case
• Operating Hand Tools
• Operation Manual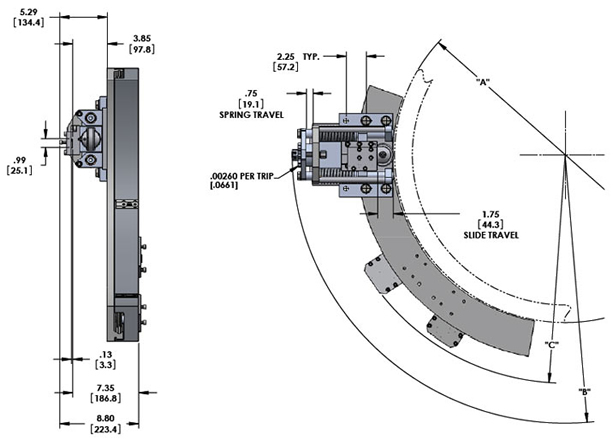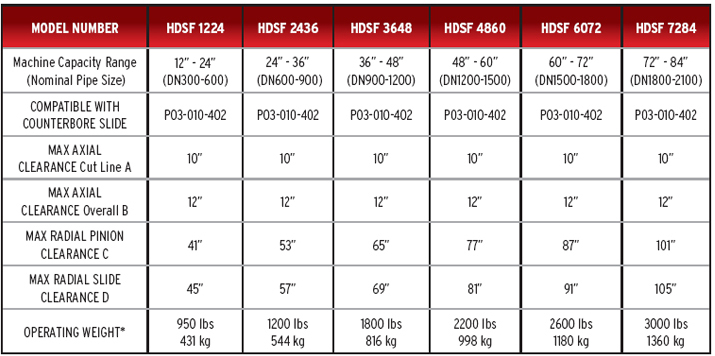 All dimensions shown for pipe diameters are US nominal diameters in inches, plus metric nominal diameters (DN) in parenthesis. Tubing and solid diameters if shown are actual US inches plus metric millimeter equivalents. *Approximate operating weight, varies by drive and configuration.