Micro Weld Heads ORBIWELD 12, ORBIWELD 19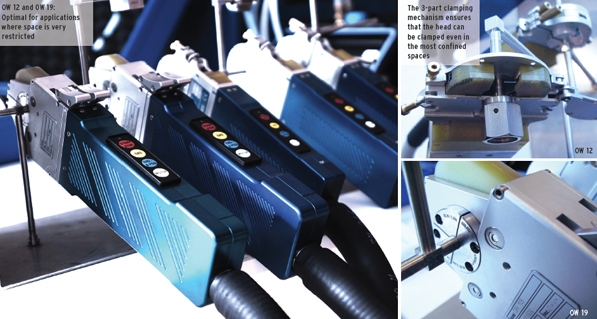 Extremely narrow design and yet highly durable thanks to intensive water cooling system :
The small dimensions of the OW 12 and OW 19 weld heads make it ideal for applications where space is very restricted, such as the semiconductor industry, aerospace, pharmaceutical industry as well as the ultra pure water supply sectors. Particularly suitable for welding all common microfittings.
ORBIWELD 12:
• With its extremely compact design and different clamping cartridges, the OW 12 microweld head offers a uniquely versatile functionality and a high power-on time previously unknown for weld heads of this size thanks to the water coolant system.

• Quick change system for clamping shells.

• All the important commands for welding can be transmitted to the power supply via a control panel built into the robust and durable aluminum handle, so that no additional remote control is required.

• Extremely narrow clamping cartridges (Type "A") for welding microfittings and for other applications with very limited clamping lengths.

• Wide clamping cartridge (Type "B") with exchangeable clamping shells for standard applications.

• The removable clamping cartridge enables accurate alignment with the parts to be welded, even where there is very little space.
ORBIWELD 19 :
The 3-part clamping mechanism ensures that the head can be clamped in the most confined spaces, as even when open no parts protrude beyond the contour of the head. Equally, an exact alignment, with no misalignment is guaranteed with the parts to be welded.

All the important commands for welding can be transmitted to the power supply via a control panel built into the robust and durable aluminum handle, so that no additional remote control is required. Orbital Tig Welding Equipment, Orbital Tube To Tube Welding, Supplier, Exporter, Exporter and Supplier in Mumbai, India